Help ensure that beautiful Usk continues to be the 'Town of Flowers'.
Click for the details:- UIB – How To Get Involved
---
Wales in Bloom 2021 has given us a  Gold Award even though the pandemic has limited our activities this year.

---
Twyn Square still looking good in mid Sept 2021
---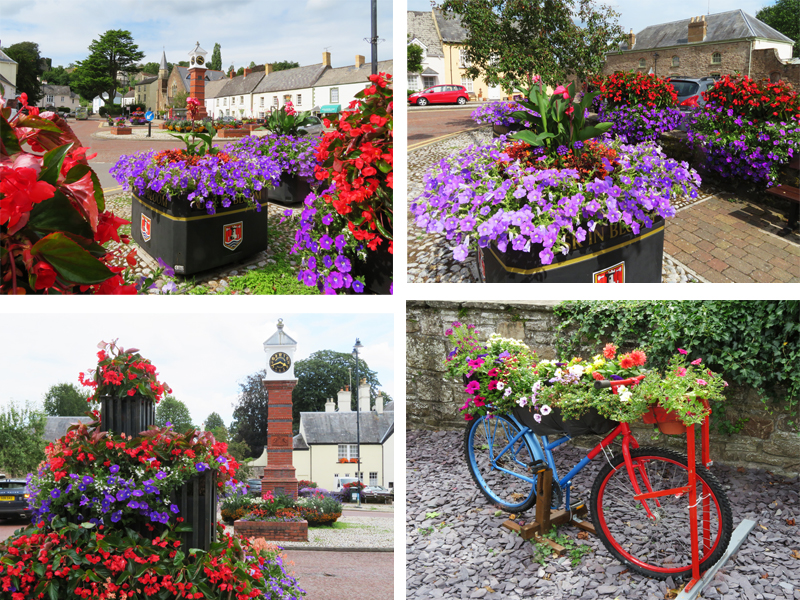 Late July 2021
---
Judging for the Wales in Bloom competition.
---
Planting in June.
---
New Usk in Bloom sign and tulips.
---
Daffodils in Twyn Square and preparing a 100 metre wild flower bed.
---
All the daffs in town !  Early March 2021
---
New date announced for the Pendyrus Male Choir concert –  Pendyrus Male Choir
---
Early Daffodils in Usk.
---
Leaf clearing and bulb planting.
---
---
The Royal Horticultural Society Britain in Bloom competition was cancelled in 2020 but Usk in Bloom has received a certificate to mark their participation  :-
RHS-Recognition – Usk in Bloom
---
The Usk Town Garden Competition – 2020 Town Results – Gold Standard
---
---
---
---
---
---
---
Febuary 2020.
---
Our flower colour palette for 2020 will be based around RED with APRICOT and LILAC highlights.  See the details :- 2020 Colours
---
January 2020 – clearing flower beds.  Conigar Work Party     Park project work party
---

Twyn Square – start of the Winter flowers.
---
2019 Winter Planting in Twyn Square
2019 Wales In Bloom certificate Award
2019 Town Competition Winners
---
We would like:  Ideas for 2020 Planting Scheme
---
Usk has won its class in Wales in Bloom 2019 and achieved a gold standard.
---
Results of the 2019 Usk in Bloom Town competition.
Results of the  2019 Usk in Bloom COMMERCIAL competition
2019 Town Commercial Category Winners

---
---
Information about the annual Usk town gardens competition:  2019 Town Competition
---
Wales in Bloom Judging – July 2019   Judging Collage
---
---
---
On 27th June Usk in Bloom hosted Harewood End Infant School from Gloucester – 90 children and 13 teachers on a guided tour of Usk. See the details … Harewood School Visit
---
---
See the newsletters for detailed information.
---
Preparing for the summer displays  TUB CLEARING  
---
School children plant plug geraniums to grow and care for themselves at home until Usk Show In September when they will be judged for a prize that Usk in Bloom is sponsoring:
2019 School Planting
---
---
Usk Town Gardens Competition, Gold, Silver and Bronze awards for residential and commercial gardens.   2019 Competition Details
---
Town flower bed planting by volunteers – 2019 Planting Schedule
---
Usk in Bloom – Much more than Flowers. Floral excellence, environmental responsibility, community participation.   Read the details:-  More Than Flowers

---
Summer Planting for Usk 2019 Displays –
The colour scheme for 2019 will be HOT HOT HOT – purples, oranges, reds, lime green etc
---
Usk were finalists in the 2018 Britain in Bloom Champion of Champions competition and received a Gold Medal.
Usk in Bloom have won the Communities in Bloom (World) Small International Category 2018.  At the awards ceremony in Edmonton, Alberta on Saturday Usk in Bloom representatives Tony Kear and Jan Mundy admitted to being "stunned and speechless" as it was announced that Usk had won the top award in the International Challenge overcoming similar sized communities in the USA, Canada and Europe to lift the trophy.
Usk were awarded a GOLD Award at the 2018 Wales in Bloom Awards Ceremony and in addition were crowned OVERALL WINNER of the Large Village Category 2018.
Every year Usk in Bloom gives awards to Usk Commercial and Residential gardens.

---
For more information please contact:
---