The River Usk is one of the largest rivers in Wales being over 120km long from its source to mouth. It rises in the mountains of mid-Wales then flows south-east through Abergavenny and Usk to the village of Caerleon, down through the centre of Newport to the strong tidal waters of the Severn estuary.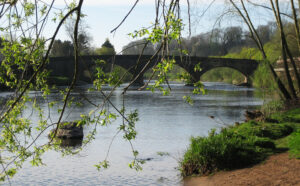 The Usk Conservation and Environmental Group work closely with Natural Resources Wales to ensure that the best possible habitat is maintained and safeguarded for the benefit of all flora and fauna e.g mowing regimes along river bank and soft engineering (natural re-growth of plant species) rather than hard engineering.
---
Environmental significance
The whole river has been designated a Site of Special Scientific Interest (SSSI) and Special Area of Conservation SAC). It contains estuary with mudflats and salt marsh, lagoons, bog and marsh, varied grassland and woodland habitats along its course. Its flora and fauna are diverse and includes Atlantic salmon, otters, twaite shad, allis shad, lamprey 3 species – river, brook and sea. European perch, brown trout, chub, common dace and common roach, bullheads, eels,  as well as  a very varied birdlife such as  kingfishers, herons and little grebe (dabchick) mallards, sand martins , goosanders, cormorants, sandpipers and other bird life such as wagtails, pied and grey plus occasionally yellow wagtails can be found in meadows alongside the river.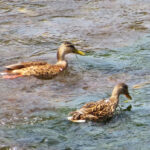 Also,  dippers can be seen upriver along with red kites in the river's valley upstream from around the town of Usk. A good population of otters along most of its length can be found also, mink can be seen frequently
The Usk has long been a noted salmon and trout fishing river. Salmon of over 30 pounds (14 kg) may still be caught. The river has the highest estimated salmon egg deposition of any river south of Cumbria and the Scottish rivers, and exceeded its spawning target The river has recently been rated as the best fly fishing water in Wales for salmon and inside the UK Top Ten
The normal tidal limit of the river is just below the bridge at Newbridge-on-Usk, some five miles north of Newport.
Alfred Russel Wallace was born just on the outskirts of Usk town approximately 300 metres on the Newport road from the bridge. His work on the origin of species prompted Charles Darwin to publish his seminal work on this subject earlier than anticipated
The Valerian growing on Usk Bridge is a food source for the humming bird hawkmoth and is monitored and species recorded annually.
---
Further information about species – some of the reasons for the river being designated a  SAC:
Annex I habitats present as a qualifying feature, but not a primary reason for selection of this site
Water courses of plain to montane levels with the Ranunculion fluitantis and Callitricho-Batrachion vegetation
Annex II species that are a primary reason for selection of this site:-
Sea lamprey Petromyzon marinus
The Usk is a medium-sized catchment in south Wales, important for its population of sea lamprey Petromyzon marinus. Survey of juveniles and observation of spawning adults indicates that this species is mainly restricted to the lower reaches of the catchment. The site supports a range of Annex II fish species.
Brook lamprey Lampetra planeri
The Usk in south Wales supports a healthy population of brook lamprey Lampetra planeri and is considered to provide exceptionally good quality habitat likely to ensure the continued survival of the species in this part of the UK.
River lamprey Lampetra fluviatilis
The Usk in south Wales supports a healthy population of river lamprey Lampetra fluviatilis and is considered to provide exceptionally good quality habitat likely to ensure the continued survival of the species in this part of the UK.
Twaite shad Alosa fallax
The River Usk is one of the largest rivers in south Wales, and twaite shad Alosa fallax has long been known to spawn there. The Usk is one of only four sites in the UK where a known breeding population of twaite shad occurs (the Rivers Wye and Tywi are other SAC sites). Water quality and quantity are considered favourable for this species. The main channel is largely unmodified and a variety of aquatic habitats are present, including good quality spawning gravels and deep pools used for cover by adults and fry. However, Trostrey and Rhadyr Weirs may be a barrier to shad migration under low flow conditions.
Atlantic salmon Salmo salar
The river Usk is a river famous for its salmon Salmo salar, with a high proportion (c. 30–40%) of multi sea winter fish recorded in the rod catch. In 1999 the Usk had highest estimated egg deposition of any British river south of Cumbria, and was one of the few rivers in England and Wales to exceed its spawning target for salmon. The Usk has a mixed catchment with a largely unmodified river channel, no significant obstructions to salmon migration, good quality spawning gravels and a diversity of habitats providing excellent habitat for salmon parr. The most important tributaries for salmon spawning are included within the site boundary.
 Bullhead Cottus gobio
The Usk represents bullhead Cottus gobio in the southern part of its range in Wales. It is considered to have exceptionally high-quality habitat with good water quality, abundant cover and a variety of aquatic habitats. Bullhead are widespread throughout the Usk system.
Otter Lutra lutra
The River Usk is an important site for otters Lutra lutra in Wales. They are believed to be using most parts of the main river, from Newport upstream, and in recent years signs of otters have increased. In 1991 an expansion upstream of known otter ranges was recorded on several tributaries, including the Honddu, Senni and Crai. The upper Usk may have acted as a 'refuge' during the decline of the 1950s, and had subsequently acted as a 'source' population for recolonisation of south-east Wales.
Annex II species present as a qualifying feature, but not a primary reason for site selection
Allis shad Alosa alosa

---